Welcome to Bella Outdoor Pizza Ovens
Are you looking for a way to take your homemade pizzas to the next level? Bella Pizza Ovens offers you a wide-variety of pizza ovens to create delicious restaurant-quality pizza for your family and friends anytime, anywhere. You'll find an exceptional collection of pizza ovens here at Bella Pizza Ovens. See our small portables for tailgates, campouts or the lake. Need something bigger yet still portable? Try our freestanding or cart pizza oven models that give you the freedom to move easily in your own backyard. Do you have an outdoor kitchen? Check out our countertop or built-in models. Take a look around and if you have any questions call or chat with us. We can help you find the perfect pizza oven that best suits your lifestyle. And don't forget to check out our sale going on now!
Holiday Sale–Huge Savings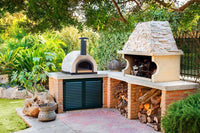 BEST SELLERS
Our customers have spoken. See which pizza ovens are getting all the attention!
JOIN THE PARTY